swipe left or right in the bottom area to view slide information
FOCUS ON THE RIDE
Modern display and integrated BRP Audio
DESIGNED FOR THE RIDER
DISPLAY TECHNOLOGY AND BRP AUDIO
CONNECT MORE. CONNECT BETTER.
An industry first!
POWERFUL AND EFFICIENT
ROTAX 1330 ACE engine
|

Vehicle Stability System
OPTIMUM CONTROL
ABS, traction & stability control
EASY TO MANEUVER
Electronically controlled and dynamic
STANDARD THEFT PROTECTION
Digitally encoded security system
SMOOTH OPERATOR
Confort & fuel economy
SERIOUS STOPPING POWER
High-quality Brembo breaking system
SHIFT TO SAVE
Reduce fuel consumption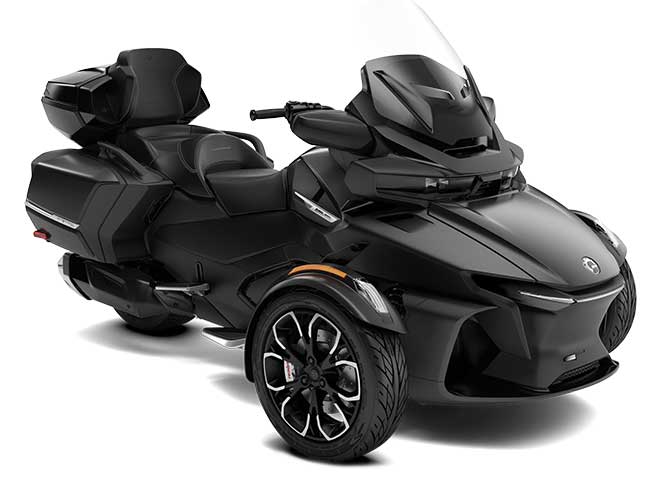 EXPLORE CAN-AM SPYDER RT PACKAGES AND SPECIFICATIONS
EXPERIENCE UNRIVALED TOURING COMFORT IN LUXURY THAT FITS YOUR STYLE. THE SPYDER RT LIMITED FEATURES INTEGRATED, VEHICLE-OPTIMIZED SMARTPHONE APPS, A LONG-DISTANCE SEAT, AND MANY MORE FEATURES DESIGNED FOR THE ULTIMATE ADVENTURE FOR TWO.

115 horsepower Rotax® 1330 cc engine, semi-automatic transmission, ECO Mode and vehicle stability control
Ultimate comfort: self-leveling rear air suspension, premium passenger backrest, touring floorboards, adjustable electronic windshield, lumbar support & heated driver grips
47 gal (177 L) storage capacity with LinQ-ready top case
Premium BRP Audio 6-speaker sound system with audio control keypad and 7.8″ (19.8 cm) digital gauge with BRP Connect
Premium LED headlights and lined & lit front cargo box.
TOURING HAS NEVER BEEN THIS LUXURIOUS. THE SPYDER RT SEA-TO-SKY'S ADAPTIVE FOAM SEATS MAKE EVERY JOURNEY A BLISSFULLY COMFORTABLE PLEASURE, ALLOWING YOU TO FULLY APPRECIATE EVERY NEW PANORAMA. THIS SUPERB RIDE'S STRIKING LOOKS REFLECT YOUR INIMITABLE STYLE.

All Spyder RT Limited features, PLUS:
NEW: Luxurious Green Shadow paint, color-matched top case, and 16-spoke prosecco wheels.
Ultra-comfortable adaptive foam seats with lumbar support.
Modern prosecco-coloured trims, Sea-to-Sky stitched seats and Sea-to-Sky badging.
Adjustable side wind deflectors, coloured rear panel for a sportier look when top case is removed.
CAN-AM RYKER
2023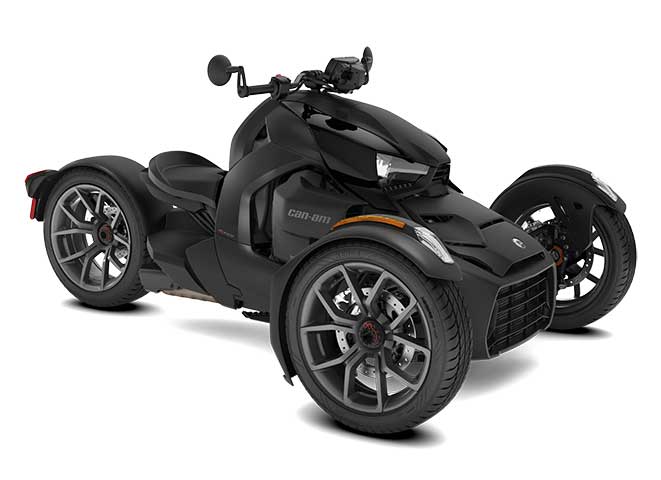 Your playground awaits. All day and all night, you've got everything you need to rule any road and never hold back. The only question is: where will you play?
Read More
CAN-AM SPYDER F3
2023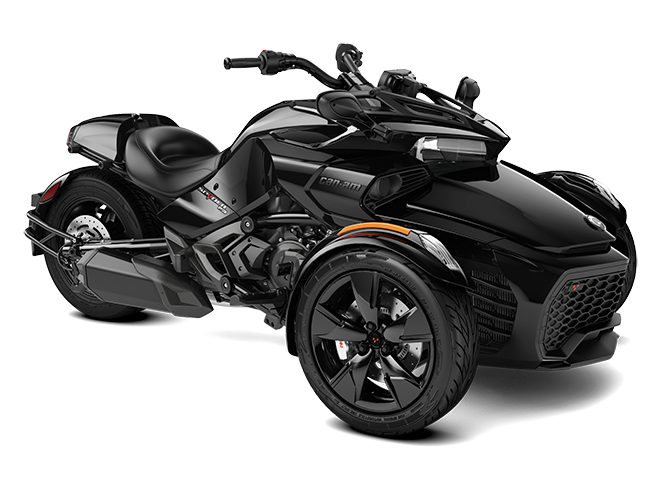 BOLD, MUSCULAR DESIGN. THAT'S WHAT IT'S ALL ABOUT. THE CAN-AM SPYDER F3 WILL PUSH THE LIMITS OF PERFORMANCE, WHILE THE RELAXED SEATING POSITION WILL HAVE YOU ALWAYS LOOKING FOR MORE.
Read More
ORIGINAL

RIDING GEAR & ACCESSORIES
LIVE THE COMPLETE SEA-DOO AND CAN-AM EXPERIENCE